Merry (almost) Christmas! It feels like not long ago we were basking in the summer sun, am I right? And here we are, hustling and bustling to get our trees trimmed, our homes decorated and gifts picked out. Thank goodness for online shopping! I think my UPS driver and I are buddies, or I'm his enemy. Ha! It's hard to tell. This year has been a big one for our family. We moved from a home we spent nearly ten years in, (see that tour here and here) buying a home that needs lots of love and vision poured into it. We have no problem with the vision and the love, but the execution and paying for said vision is a different story.
A CALM + COZY CHRISTMAS…..TWO THINGS WE CAN NEVER HAVE TOO MUCH OF
This year I'm really craving calm and cozy- think lots of neutrals and texture. I know we've craved neutrals for the past couple years, but I see this becoming a softer version of the bright white we see all over Pinterest and Instagram. I wanted our Christmas decor to evoke this same feeling. The new Hearth and Hand Collection by Magnolia Home  (Chip and Joanna Gaines) has a lot of the elements I wanted to incorporate. I knew their matte black ornaments along with the soft shimmer of the deep green, paired with cream tones would be the perfect fit for our tree. Our tree is nestled between the living and dining rooms and since these rooms are connected, it's important to create cohesiveness with the entire space. I'm slowly adding a little here and there while looking for just the right extra oomph for the tree, but wanted to show you what our home looks like now! I'm thinking some sort of garland will finish the look the tree and we have yet to add all the kiddos' ornaments.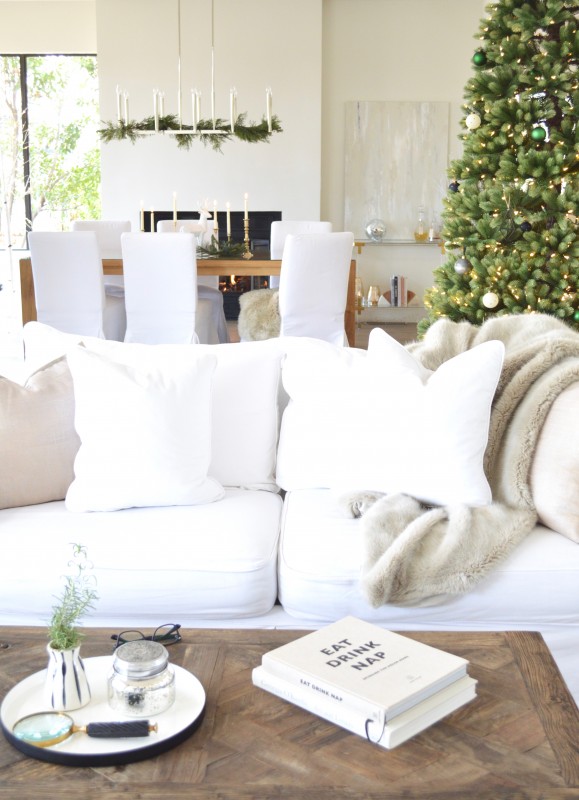 One of the first things we did when we bought our house was remove a wall separating what was a pretty small family room space from the formal living and dining room space. We felt like this was a better fit for our family- having a large dining and living space that we'll use all the time. It was a game changer for the layout of the home. About where the Christmas tree is now, was where the wall was. This was quite a chore since this was a load bearing wall, but my handy hubby added a glue lam beam and framed the opening to mimic the other angles in the room. I make it sound so easy! It definitely wasn't but I'm always puzzled at how expensive this is when we watch shows like House Hunters Renovation. The beam cost $350, saving us a ton because my hubby Matt did all the labor. I think it's so important to ask for the breakdown in costs when tackling big home renovations. I'll step down from my soapbox and get back to the tour….
The entire back of the home has windows and sliders, making the space so bright! It was one of the things we loved about the home when we looked at it the first time. Come Spring (I hope!) we will modify/gut/tear out the back patio and yard space, again, making it feel like one cohesive space by revamping the hardscape and landscape.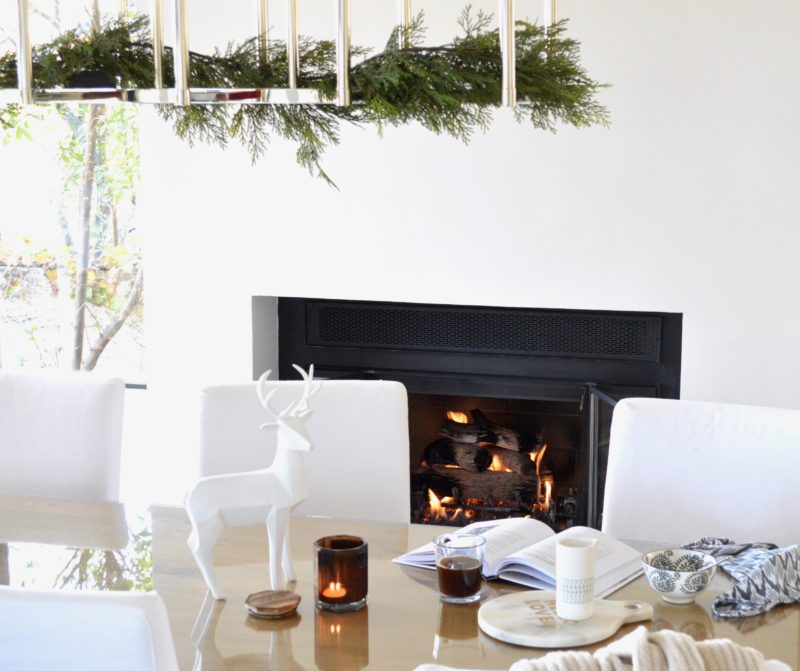 We loved our wood burning Kiva fireplace at our last home, but this gas fireplace is such a treat! Switching it on in the morning when we have breakfast or in the evening at dinner increases the coziness factor big time. We were really drawn to all the clean lines in the architecture of the house, including the fireplace. We wanted our dining table to mimic the same angles in the space. I added glass to the top of the table because I didn't want to fret over the toll everyday living can take on wood furniture. Now I wipe it down and have come to love the reflections in the table, whether it's the   sunset or the green outside. The little one does homework, colors and paints at the table making it a multi-use space. It's also the best surface for wrapping gifts! I called our local glass company and for about $130 they delivered the glass with buffed edges and placed it on the tabletop. Easy peasy!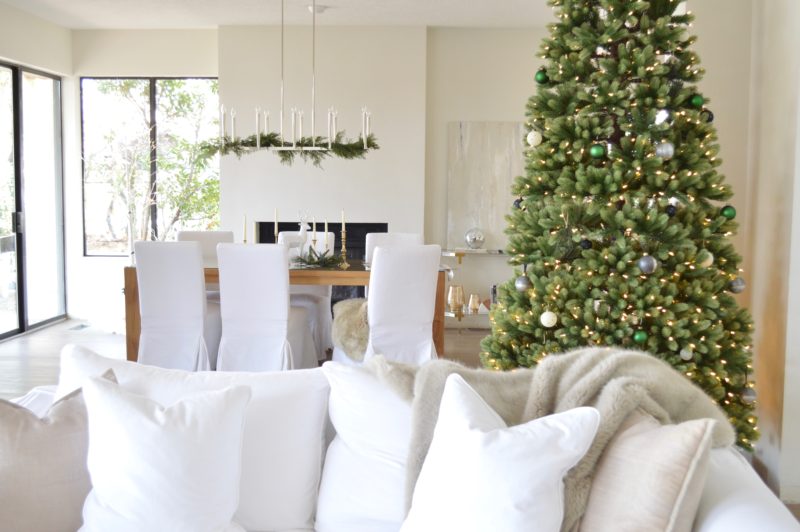 We've had long-loved tradition of making a day of going to the mountains and cutting our tree down, having Indian tacos for lunch on the Jemez reservation and coming home to discover trees look much smaller in the forrest than they do when you get them home. Though we've loved this tradition, it also means we have to wait closer to Christmas to put our tree up and inevitably we go a couple days forgetting to water the tree, and the thirsty tree dries up and shrivels up. For reference- here's the before and a short time after of our tree from last year….it's hard to tell in the second photo but it got so crunchy it was a fire waiting to happen..ha!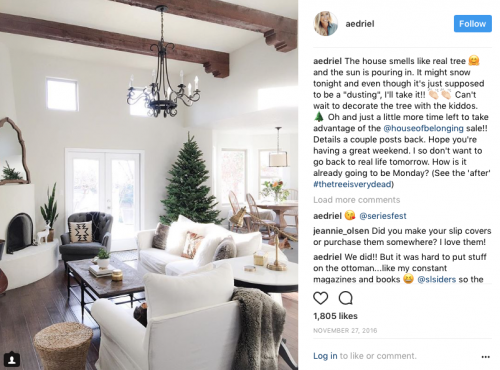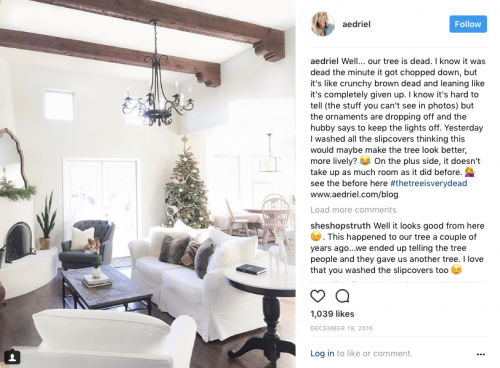 I never realized until this year how much this has made me feel one step behind with all the other things that need to be done! Receiving this stunning pre-lit King of Christmas tree meant we've gotten in the Christmas spirit a little sooner and what's not to love about more Christmas!?? Setup was a breeze with each section easily popping into the next and no need to spend time stringing lights on the tree.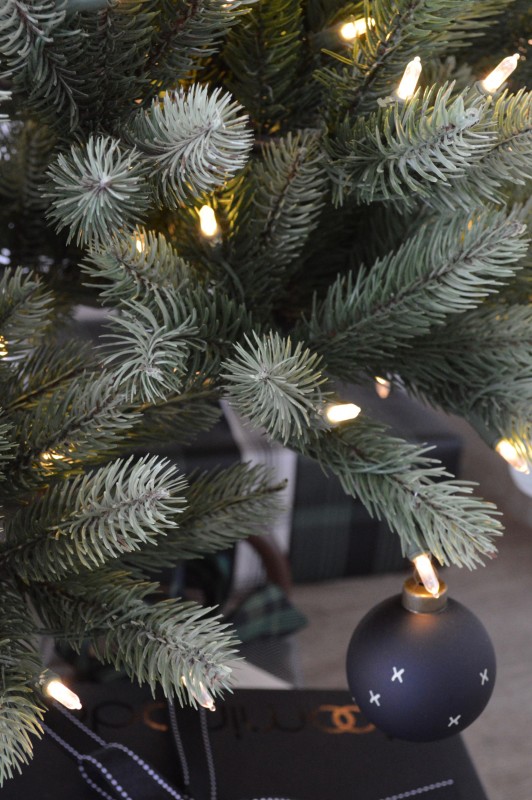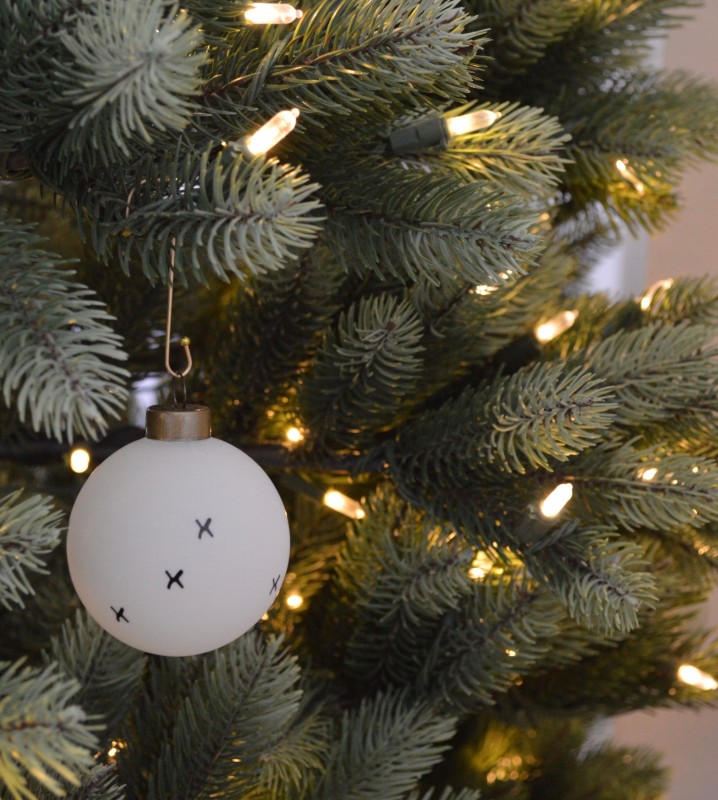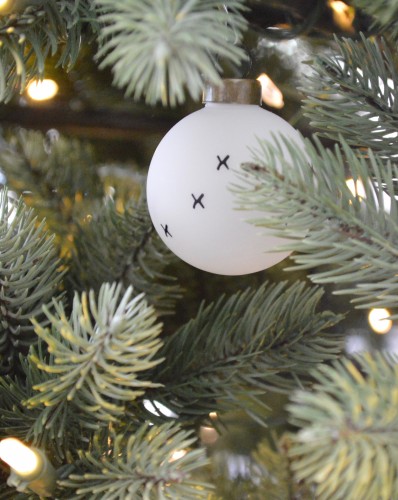 When you see the detail of the branches up close, it doesn't look anything like the trees we've had in the past. With most fake trees, I feel like I have to wash my hands after touching it. Ha! There's variation in color and texture of the branches, just like a real tree. Even the faux trunk of the tree is made to look like wood. King of Christmas pays attention to every detail!
The recent addition to our holiday decor are these brass candlesticks! Mixing green and varying heights of brass adds just a little sparkle and fun to a table. I've been on the search for brass candlesticks for ages and happened to pop into pop into my local thrift store with my daughter at just the right time and wallah! there they were, six mismatched/matching candlesticks. I think the way I was repeating "brass candlesticks" over and over again totally embarrassing my 14 year old as I made a beeline for the back of the store is the secret to "popping tags" success. Yes, I embarrass them with those sorts of comments too. (I should add we only listen to the clean version of Thrift Store by Macklemore and Ryan Lewis…it's a catchy little tune if you haven't heard it but again, keep it clean, even the KidzBop version is a great alternative…) The candlesticks were in pretty poor shape when I brought them home but I polished them up with some Brasso and now they have that collected charm I love. Mixing old with new is like layering the cozy! As it gets closer to Christmas, I'll swap out the faux greenery for my favorite Trader Joe's garland and of course adding presents under the tree makes the space even more welcoming.
Thanks so much for popping into our home! I always appreciate the comments and questions I get on Instagram (here), and wanted to be sure I covered everything. Find the complete source list below and let me know if you have any questions I didn't answer! Be sure to check back to see our progress. On the long list of future plans for this space, we want wood beams for some much needed interest to the living room, an additional fireplace and add just a hint of texture to the fireplace in the dining room. Fun fun!!
King of Christmas Tree (Royal Fir Slim Quick Shape)
Christmas Ornaments + Wrapping Paper : Hearth & Hand Magnolia Home
Dining Table : Big Sur Natural table by Crate + Barrel
Dining Room Chandelier : Livex Lighting Alpine Polished Nickel Light
Coffee Table : Pottery Barn Parquet Reclaimed Wood Coffee Table
Sofa : Ballard Designs Vintage Vogue Super Twill White Slipcover
Sheepskin Furs (layered as a tree skirt as well as on dining chairs) in Stone : Sheepskin Town
Ceramic Reindeer on table purchased at At Home last season
Faux greenery on table: Hobby Lobby
Tray on Coffee Table : Project 62 Target 
Similar Brass Candlesticks : eBay
RH Modern
CB2
CB2 Glass Option with Vintage Charm
Paint is Dunn Edwards 'Antique Paper'