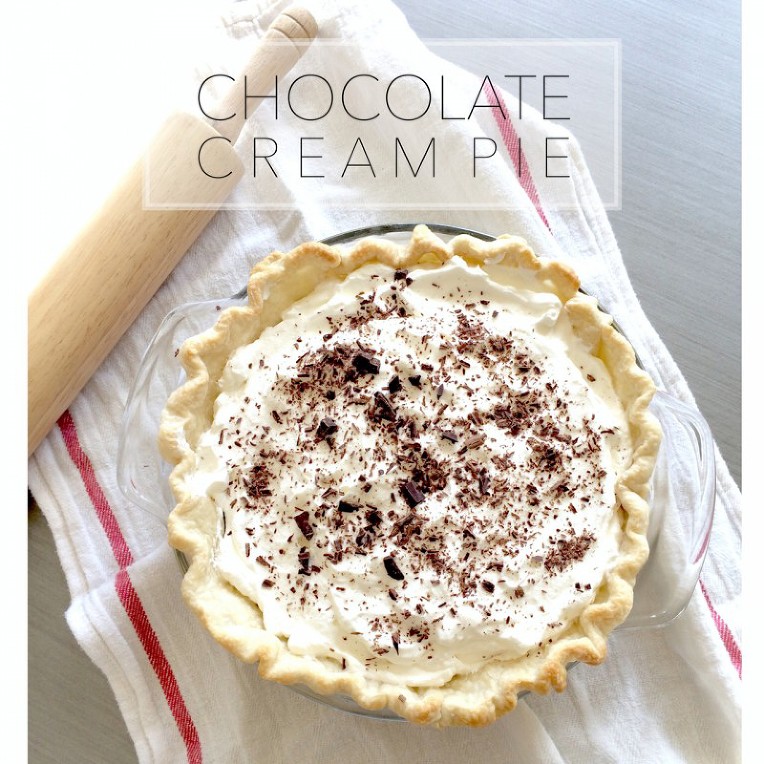 My girl, Eliana, is quite the baker. I'm such a proud mama knowing I could not have made a pie like this start to finish at age 12. As soon as  I have up control of the kitchen she ran with it! She modified a recipe (see below) and I think it's amazing!! She made this for her thirteen year old brother for his birthday. Aww!! How sweet, huh? Okay…enough mama bragging and lets talk PIE!

Eliana's CHOCOLATE CREAM PIE 
Ingredients:
1 rolled refrigerated pie crust (from a 15-ounce package)
2/3 cup granulated sugar
1/4 cup unsweetened cocoa
3 tablespoons cornstarch
1/4 teaspoon salt
2 1/4 cups cold milk
1 teaspoon vanilla extract

For the topping:
3/4 pint (1 1/2 cup) heavy whipping cream
3 tablespoons confectioners' sugar
Directions:

Bake the pie shell according to package directions in a 9-inch deep dish pie plate; let cool. Or bake your own pie crust. Yay you! In a medium saucepan, combine granulated sugar, cocoa, cornstarch, & salt. Gradually stir in milk. Bring to a boil over medium heat, stirring constantly. Seriously, don't stop stirring it. For reals. Remove from heat and stir in vanilla. Pour into pie crust & chill 1 hour. Do the chill dance. In your kitchen. For an hour. Use an electric mixer (or your muscles) combine heavy cream & confectioners' sugar & beat until stiff peaks form. Like mountains. Spread evenly over pie. Shave some chocolate pieces over the top. Chill 8 hours or overnight before serving.