Welcome to our home! Fall is absolutely my favorite season. Typically the cooler temperatures put us in full-fledged fall mode but this year it's been so dang warm we've had to rely on artificial means of feeling fall-ish- as in sprinkling baby pumpkins like confetti and lighting all the pumpkin scented candles. My motto is 'less is more' which is basically my way of justifying doing the minimal amount of seasonal decor without feeling guilty. It's more about the spirit of the home versus the decor, right?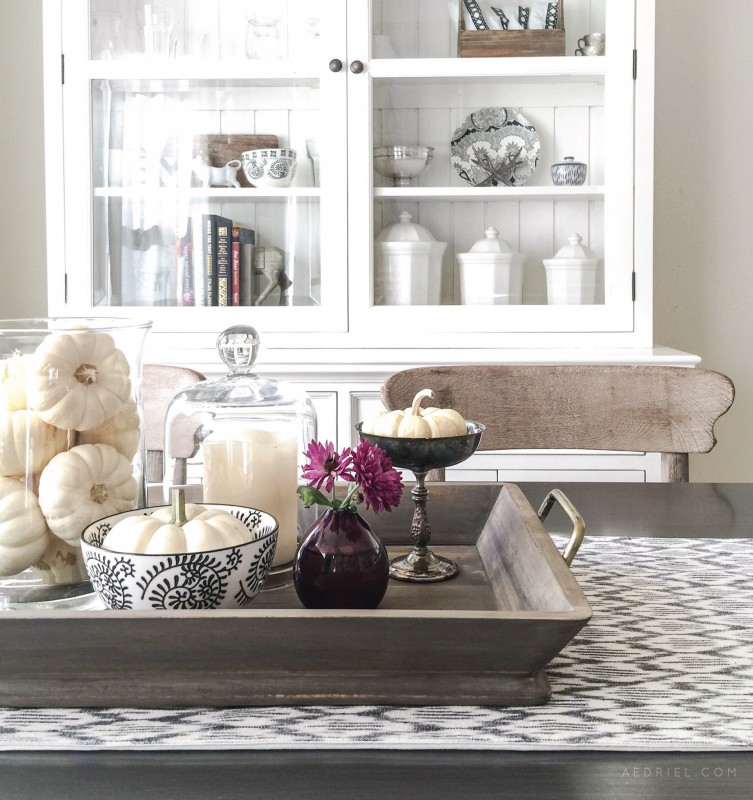 SHOP THE LOOK:
baby pumpkins- Trader Joe's // Black and white bowl and glass cloche- Homegoods  //  Tray- DIY do-over from Target
Silver Goblet- Thrift Store score // Vase (one of a set of multi-colored bud vases )- Wedding gift
Silver Bowl- Pottery Barn // Canisters- Vintage Pfaltzgraff
Dining Chair- 19th Century English Schoolhouse chair from Restoration Hardware
Table Runner- Cost Plus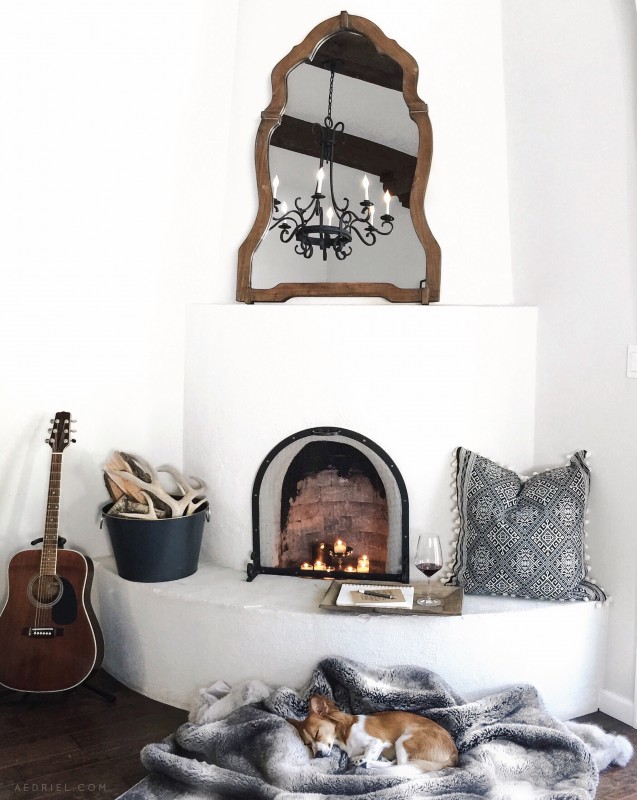 Obviously I don't need to tell you our little Corgi/Papillon/Chihuahua (and probably ten other small dog breeds) mutt is spoiled rotten. He pretty much sleeps all day,  barks at boys and men he doesn't know and acts like he's starving all the time- the life of our Carlsbad Terrier. (He came from Carlsbad, NM so we have affectionately given him this nod to his hometown)
SHOP THE LOOK:
Chandelier- Craigslist // Tray- Painted Fox // Black & Gold Bucket- Target (many moons ago on clearance)
Mirror- Wayfair Uttermost Augustin Mirror
Throw- Pottery Barn // Pillow- Urban Outfitters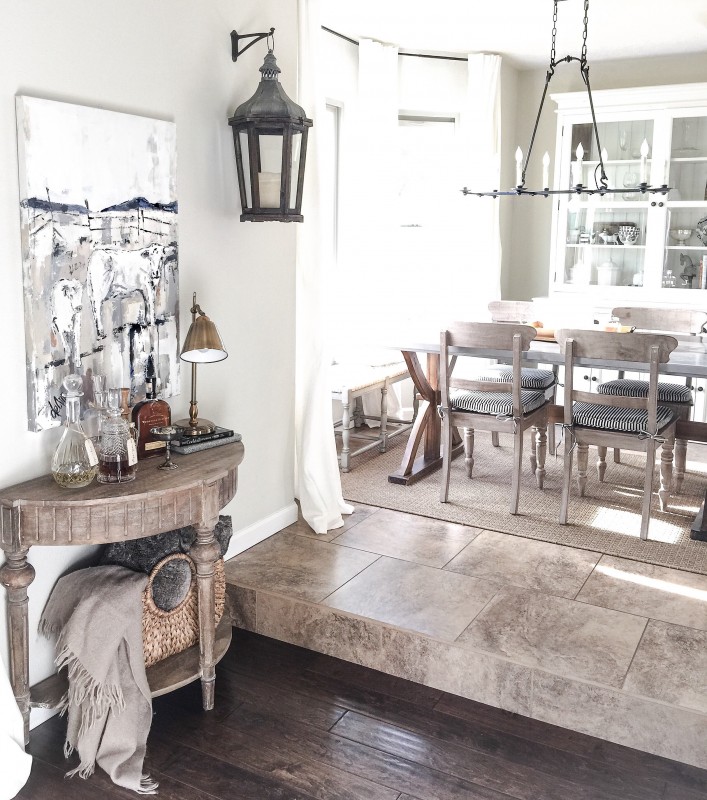 We love love love our cows that the ever-so talented and beautiful Deann Hebert painted. I had an old photograph of a mama and baby cow I took not far from our house. We considered buying acres of land (many many many acres…we probably had no idea what we'd be in for!) on the other side of the mountain near our home and during one of our 'should we take the leap?' drives out that way I captured these cows. As I got to know Deann I just knew she was supposed to paint this photograph for us. It's one of my favorite pieces of art and reminds us of a dream we just might chase one day!
Painting – Deann Hebert  // Table – World Market (no longer available)
Chandelier – Ballard Designs (no longer available…I know…why do they do that?)
Lantern- Pottery Barn (medium Parkhill using the small size hook)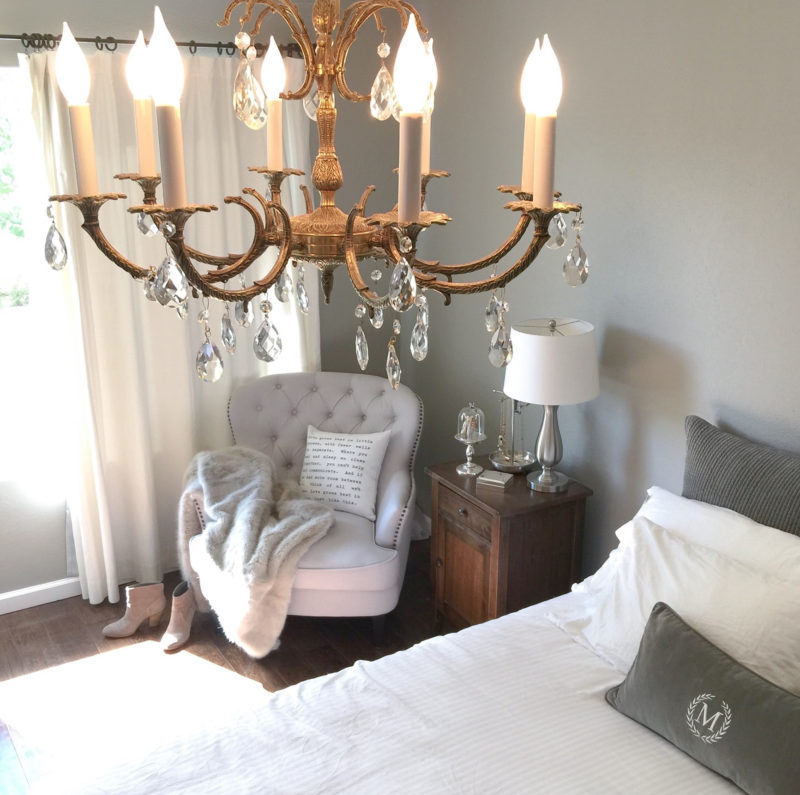 Well our bedroom hasn't changed much and since we've upgraded to a king bed (alleluia!!!) we have yet to buy a new headboard. I did decide to get tidy with my jewelry (it was a hot mess) and keeping the pieces I wear most often neatly displayed keeps me in check. It's like organizational accountability- if there is such a thing.
SHOP THE LOOK:
Chair (best ever for the money!!)- Google "Tafton Upholstered Chair" and find the best deal
Throw- Restoration Hardware  //  Velvet lumbar pillow and shams- Pottery Barn in 'Flagstone'
Chandelier- Craigslist  // Nightstand – World Market from a loooong time ago
'Little Houses' Pillow – Aedriel.com/shop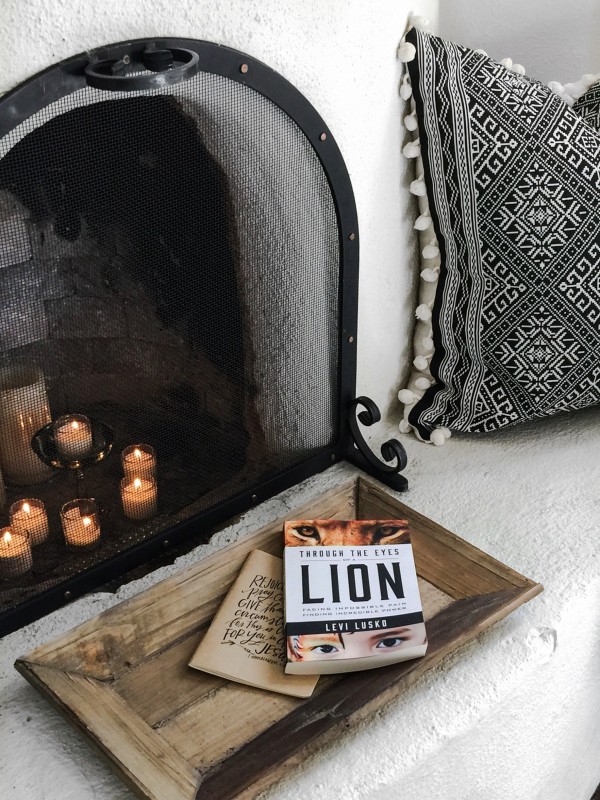 Fall is the Superbowl of Coziness and in my opinion coziness is a warm blanket, a glass of wine (or hot tea) and an amazing book. Through the Eyes of a Lion by Levi Lusko is groundbreaking. It's a book where I have to pace myself with the highlighter and I kind of don't want to actually finish it because it's just that good.
"DESTRUCTION BY DISTRACTION IS DIFFICULT TO DETECT WHEN IT'S HAPPENING, BECAUSE IT DOESN'T INVOLVE BAD THINGS BUT GOOD THINGS THAT TAKE THE PLACE OF THE MOST IMPORTANT THINGS." – Levi Lusko