When Susan of Kindred Vintage asked me to create a sign with some of her thoughts for her girls, I knew it would be a beautiful reflection of her heart. She's just a big-hearted mama like that! Course I have to admit, the pressure was ON though because I wanted it to be FABULOUS and I wanted it to really look the way she meant for it to feel. Words are art, to me. Think about it….words convey a certain feeling. The feelings that bubble up have so much more to do with WHAT we read, the story we're reading,  as it has to do with how it LOOKS. A bold font screams the message while something thin is more of a whisper. I wanted this to be delicate and soft, just like the message Susan wanted to convey.
I love how it turned out!!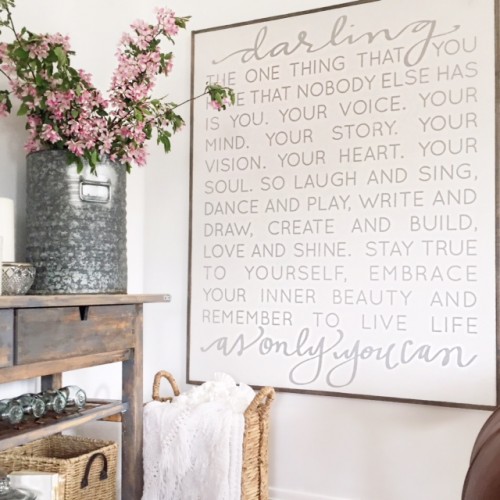 SHOP the Look HERE
Susan styled it beautifully!! I cannot wait to show you the rest of her home! She lives with her hubby and daughters in a 1920's bungalow that they've completely gutted keeping much of the same charm intact through accessories and details.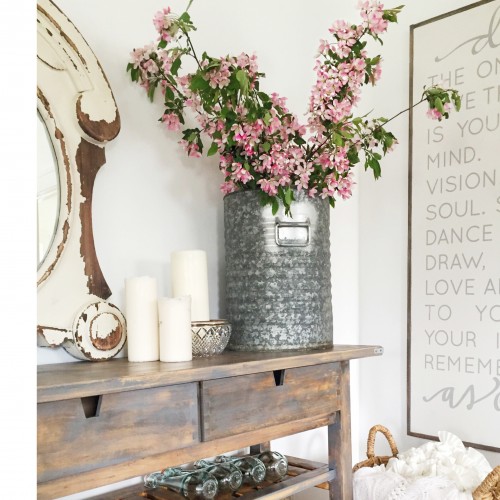 This cabinet is from IKEA! Who would've thought? She distressed it making it look like it's original to the house though. And of course with IKEA we know it was on a budget. With little ones running around, budget finds are the best finds!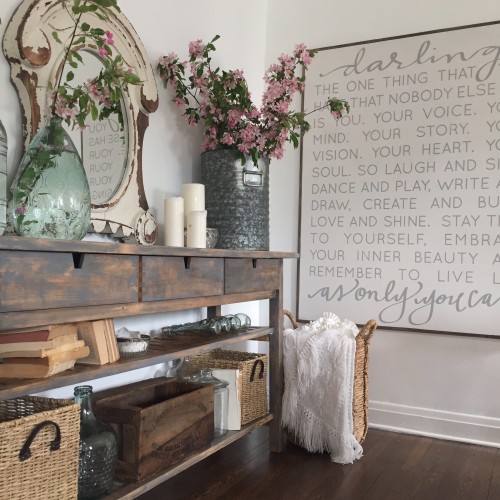 Thanks so much for stopping by!! Be sure to check out Kindred Vintage and all the other handcrafted signs at House of Belonging. Use coupon code NASHVILLE for 15% off any sign (excludes customs) now through May 18, 2015.
XO!
SOURCES:
Handcrafted Wood 'Darling' Sign: Aedriel for House of Belonging
Console- IKEA
Baskets- Homegoods
Vases- Vintage